Kenneth Hahn Park… It dawned on me that although we have covered a lot of things in parks or cool things sponsored by the parks department but we never really showed you a great park for regular park activities like picnics and playgrounds.
I would have covered Griffith Park but you probably already heard of it and I don't have the year it would take to cover all there is in Griffith.
Besides, the Observatory is still on my list.
Kenneth Hahn is…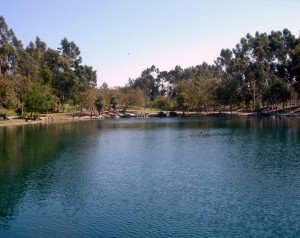 The Best Little Known
Park In Los Angeles!
It is probably a well kept secret because it is only free on weekdays.
This place has…
Fishing
Spectacular Views
Huge Grass Fields
Lots of Private Areas
Covered Picnic Tables
Several Playgrounds
Barbeque Grills
Waterfalls
Great Hiking and Jogging Trails
When my daughter was into Dora The Explorer, I made a map for her to follow and we put some things in a back pack and headed here.
She remembered it and mentioned it today. The map went lake; bridge; waterfall; ice-cream truck.
After Rose got a little brother we came here to shoot model rockets because this place has a…
HUGE Grass Area!
As for convincing you to check it out, I'll let the pictures do the rest of the talking.
Enjoy,
Everett