Sunset in Los Angeles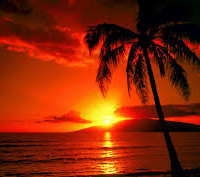 The sun sets everywhere on earth but sunsets in a LA can be very special. Some say it is the smog while others say it is the drugs Angelinos consume. Personally I like the silhouettes of palm trees at dusk.
Whatever it is, sunsets in Los Angeles are spectacular.
In Key West, Florida the residents and tourists have a tradition of gathering at Mallory Docks and applauding the sunset.
I lived in the building closest to those docks and saw the sunset there many time. While it was indeed wonderful I always felt their sunset holds nothing on LA in Fall and Winter.
During this time of the year the sun sets on the water as opposed to Summer when it sets behind the mountains.
This section is devoted to sunsets in LA.
Feel free to send in any and all sunsets in Los Angles photo or videos and I will be glad to post them.
To kick the page off right here is a HD video of the sunset as seen just south of Marina Del Rey. Enjoy.