Palisades Park stretches along the 1.6 mile bluff overlooking Santa Monica Bay and is a great place to take a leisurely stroll.
Free parking is available on the east side of Ocean Avenue at the north end of the park near the totem poll and barbeque grills.
Though the park is a narrow strip it has two paths. One path curves along the ever eroding bluff offering some of the best beach views in all of Los Angeles while the other path is more of a straight shot to the other end of the park.
Both are great for jogging too.

Palisades Park has great place to sit and read a book or just enjoy the majestic view of the Pacific Ocean.
During the weekend, fitness buffs come out to get a little sun while they exercise in the park and families picnic in the grassy areas.
Palisades Park also has many paths down to the beach as you can see from the photos.
In the park there are lots of memorials commemorating famous people in the history of Santa Monica including a statue of Saint Monica whom the town is named after.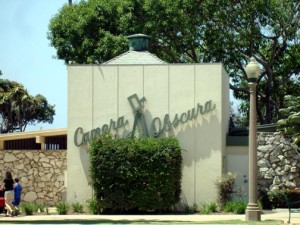 The city of Santa Monica was first laid out by Senator John P. Jones. The senator lived across the street from the park in what is now the Miramar Hotel. Every day Mr. Jones would walk across the street, sit down and watch the sunset from the park and now there is a special memorial which marks where he sat.
This is an especially good place to catch the sunset during winter when you can see the sun set on the water.
A small rose garden was put in a few years ago when they really put a lot into cleaning up and beautifying the park
Palisades Park is also home to Camera Obscura and senior center we covered in a previous post here: