Wells Fargo Museum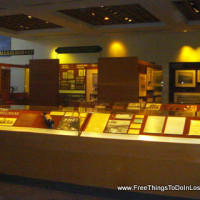 This is a very cool little museum near Angel's Flight and Bunker Hill which is always free.
The museum has a large collection of artifacts emblematic of life when San Francisco was the biggest city in California and stage coach travel was king.
As you would expect, there is a lot of emphasis on travel, banking and the gold rush.
When you enter, the real Wells Fargo western stage coach stands out like an elephant in the room but there are many more interesting things awaiting inside.
Hop into the model stage coach for an interactive journey narrated with the actual words from a traveler making the long journey from back east to San Francisco.
They also did an awesome job recreating a typical 19th Century Wells Fargo office you can walk through.
Seeing real safes, guns, wanted posters, bank notes, letters and traveler's checks is really interesting.
There is a large focus on the gold rush as it fueled to migration to the western US  and had a huge impact on the lives of almost all stage coach passengers.
There are displays of tools, mining carts, beautiful scales and so forth.
I was most impressed by the huge gold nugget which must be worth over 100k.
The museum itself is sort of tucked away from the street and even though I went at lunch hour during the week it was nearly empty.
All in all, it is an impressive display of life on the road during the gold rush and the Wells Fargo History Museum is a real hidden gem.