Walt Disney's Workshop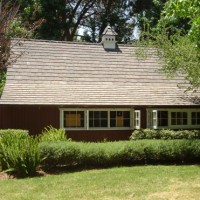 They call it Walt's Barn and his previous ownership is less impressive than the fact…
Disney Made It Himself!
On top of that, the workshop is still filled with lots of Walt's personal tools and his own model train he and his famous guests used to ride around his house.
2014 happened to be the 10th anniversary of the Barn's migration to the heart of LA's Live Steamers from Walt's home not too far away.
This is a club of sorts which is completely dedicated to model trains people can ride. They have electric, propane and steam engines which pull people around the grounds through model western towns, tunnels and over some pretty impressive bridges for a model train.
Walt's barn is in the middle of Live Steamers but to ride the trains you must go around the outside to a different entrance.
The ride is free but there is a strongly suggested $3 donation. So if you left your wallet at home don't sweat it.
The real fun is checking out the area around the barn anyway.
You definitely get the feeling the people working at Walt's Barn are a lot more happy to see you come and enjoy yourself than the folks working the train station.
Outside the barn, there is a small set up with toy trains for the tots to play with and shady picnic tables.
Don't miss the old time engine demonstration. They use real leather belts and old style technology to crush cans for recycling and other demonstrations of how industrial equipment of yore worked.
The Live Steamers is open only on Sundays from 10:30AM to 3:00PM and Walt's Barn is open Sundays from 11:00AM to3:00PM
During Hollowen they go all out with decorations and during Christmas they have one of Santa's helpers there so the kids can ride to see him and tell him their wish lists.
The engine above on the right was Walt's and so was the box car below.