Travel Town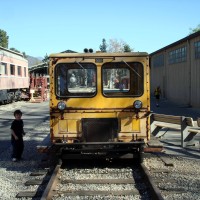 The kids had been in the house too long and it was time to take them out and blow the stink off of them. So to speak.
My son is 4 years old, my daughter is 9 and my wife may kill me if I tell you her age so this free activity had to be fun for both the very young and the very middle -aged for all of us to enjoy.
We chose to go to the Travel Town Train Museum. Don't stop reading if you have been there because they have been making some cool changes.
For those that have never been there, Travel Town is on the north side of Griffith Park and is free all year round.
They have many examples of trains, engines, box cars, loaders, caboose, dining cars all on tracks.
The best part of all is you get to….
Play On The Trains!
Needless to say our four year old boy loved this adventure the most, but we all had a good time.
The trains make it a great place to take photos but I personally like to turn the knobs, pull the levers, work the machinery that isn't welded tight. Every time I visit Travel Town I discover new things to tinker with on the same train. Open the viewing door to peer into the boilers or find switches and try to guess what they might have once turned on and off.
Some of the cars are available for children's birthday parties but they are rare on weekdays.
There are several great spots to picnic too.
In the past few years they finished constructing the permanent glass and steel canopy/train warehouse which covers some of their more rare train cars.
You can really feel the history when you are there. There are dates of manufacture on everything. They even have a train station waiting room complete with an antique safe and Franklin stoves.
Wander into the buildings to see old milk trucks, a circus car and other vintage relics of Los Angeles' past.
Do NOT miss the model train exhibit. They have built what has to be the most intricate and largest train display I have ever seen.
Today they had the Union Pacific and the Metrolink trains running the maze of tracks. Make sure you kneel down to get a god look at the model McDonalds, other buildings and cars that complete the scenery.
This has been my favorite part of Travel Town since I was a kid and it has been the same track setup for the past 30 years….
Until Now!
I like trains, but I love models. It was personally disappointing when they closed the miniature museum across from LACMA.
Well, now that they are changing the track so for those of us who like to see how it is built, you can watch them build the new one. They still keep the trains running during the redesign but if you are a model lover like me..
NOW Is THE Time To Go!
They do put up extra scenery for the holidays but Travel Town is open all year and great for those weekdays when the kids are on break from school.
There is a small train that circles the museum which does cost $2.50 per person. The train is not so fun as to be the main focus of any visit. However it would be cruel to let a small child see that train and not let them ride it.
If you live in Los Angeles and have small kids, I will let you in on a secret free activity for the kids if you e-mail me. It is right in the same area as Travel Town but they don't spread the word because the activity is so cool, they fear the large crowds will make them have to start charging money.
Well that is the blog report for today.
Until next time, be well,
Angelito 007