Skirball Cultural Center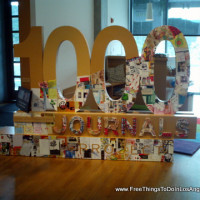 Like most LA museums, the Skirball Cultural center has free days (every Thursday) and can be quite fun, especially for young kids.
There is a permanent exhibit which focuses on remembering the Holocaust and they also host lots of lectures and events.
Because the warning sign is really small and obscure, you may not know photography is not permitted in this section.
As you enter, be sure to book time in the Arc where kids can play in a very interactive fun room based on Noah's Arc. Kids really love this section.
The pictures show the play rooms very well but the center also hosts different arts and crafts projects.
The staff in the play rooms are very friendly.
The first let's you construct basic animals out of materials they provide and the second station is an arts & crafts room where each week they kids can work on different creations to take home.
The temporary exhibit when we visited was 1000 Journals in which people from around the world write or attach various things. It is a very cool project and the center even held it's own version providing journals, various scraps of material and pictures plus pens markers and pencils.
Although it was closed while we were there, rumor has it they also have a very cool paleontology exhibit where kids learn hands on about how artifacts are unearthed.
All in all, the young kids dig this place.
Parking is easy and free too.