Skateboard Parks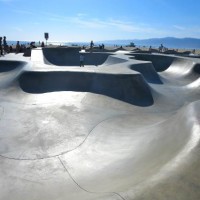 Free Skateboard Parks In Los Angeles 
Skate parks are a great source of free summer fun in Los Angeles for kids.
Did you know skating (skateboarding) started in California? It was also made popular by a group of surfers from what they called Dog Town which is right in Santa Monica.
Back in the seventies and eighties skaters used to write Dog Town on their boards and my older brother and his friends were always on the hunt for empty pools to skate in in Dog Town.
So now that the sport is no longer taboo, it only makes sense that the area would have a great skateboard park.
All the free skate parks in LA are located  on the map below but because of it's history in making skateboarding the popular sport it is today it seemed appropriate to video the skate park at the beach.