Rolling Robots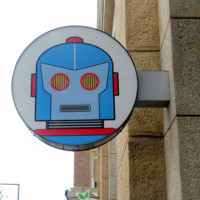 What can I say about this store except that it is AWESOME!
As a non-repentant geek for many years, I am really excited to report how Rolling Robots is providing a great alternative to stale and boring birthday parties based on themes of Disney movies.
I'm not down on Disney. In fact I have an annual pass and an original production cel from the Little Mermaid, it is just that Rolling Robots is something fresh, new and intelligent.
I'm very proud to say the owners of Rolling Robots are fans of the website and sent us an email asking if we would like to come in and check out their new free event which makes this…
A Free Things To Do In Los Angeles Exclusive!
While they were out on Spring break, my buddy Steven and I took the kids to put Rolling Robots to the 11, 6 and 5 year old fun test which they passed with flying colors so we definitely recommend their weekly free event.
Every Tuesday from 10am – 3 pm anyone can come in to the store and build robots which they can then play with. This is a great way for kids to learn some basic electronic and mechanical skills.
The robot kits are designed to give the kids a simple and basic understanding of gears, electric motors and mechanical assembly.
You won't have to worry about getting lost or following instructions because their very friendly staff has lots of experience helping people assemble the robots.
Of course you can buy robots to build and keep as well and they have a battle floor where customers can test their remote control skills and battle each other in the robot battle ring.
There huge selection of robots which range from classic tin metal and whacky to sophisticated and cool.
Now, I fully admit, I am a bit biased because well…I love robots but I think this is…
A Cool Place For Anyone Who Is Young At Heart
Even though they do focus on birthday parties, I could easily see myself and a few buddies dropping in to enjoy building toy robots so if you know anyone who is looking for something truly different to do in LA, recommend this place.
HOT TIP: Members of our email list get a coupon good for two games on the battle bot floor during their free evnt time, Tuesdays 10 am-3pm. Once you sign up, simply request the coupon.