Rodeo Drive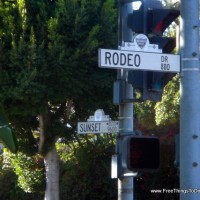 Window shopping along Rodeo Drive is without question, the most famous free thing to do in Beverly Hills.
Billed as one of the most expensive streets in the whole world, the very famous part of Rodeo Drive is only three blocks long, so there is no reason to set aside a whole morning or afternoon just to stroll it.
For anyone visiting, it makes sense to drive up towards Sunset Blvd. to see some of the nice large homes and the famous Beverly Hills Hotel.
Most of the stores (sorry boutiques) are open to walk in visitors but a couple like Bijan are by reservation only.
Bijan's is of particular note because it is not as well known as Gucci and DeBeers but it once held the distinction as the most expensive store in the world and it has a lot of character.
Every Christmas Santa can be seen entering and exiting the store and there has been a late model yellow Rolls Royce or Bentley parked in front of the store for decades now.
The cars are a well established trademark like Angeline's Pink Corvettes.
If you do go check out Rodeo Drive make sure to drive the residential part up to Sunset Blvd too.
On the corner is The Beverly Hills Hotel which still attracts a lot of visiting and local celebrities and for the price of an expensive meal you are almost guaranteed to see a celebrity or two at Sunday brunch.
As you head south it looks like a very nice suburban neighborhood except really big. The street is really wide and the houses are huge without taking on an estate like appearance.
Once you cross Santa Monica Blvd. about a mile south you hit the shops of Rodeo Drive.
Not only is window shopping free but so is parking.
The city of Beverly Hills provides free parking for two hours in parking structures throughout the area. No is validation required either.
HOT TIP: Stop in a few of your favorite shops and ask for catalogs. The merchandise in these shops (sorry boutiques) is all very high end, so they put a lot of money into developing very cool free catalogues and often throw parties where they hand out high-end swag.
It is no secret I am a watch fan and once a year Rose and I browse the watch stores and ask for catalogues which I enjoy more than watch magazines. They look better too.
To give you an idea of what Rode Drive is like and how much time you want to spend there we recorded a video of the drive.
The video starts at the Beverly Hills Hotel and ends at the Regent Beverly Wilshire, another hotel best known as the hotel where they filmed Pretty Woman.
You may want to turn off the sound to watch as the microphone picked up a lot of wind because it was outside the vehicle.