Pio Pico Ranchito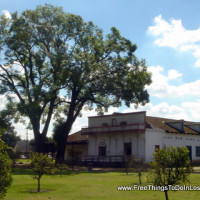 Pio Pico was the last Mexican Governor of California and his name is just fun to say.
His ranchito in a few minutes east of Downtown in Whittier is now a State Park which makes a great little place to visit and picnic.
Going through the house, it seems like a little mission or a large adobe home.
An adobe mansion of sorts which for the time it certainly was.
If you go on the weekend while the house is open to tour, be sure to ask to see the short film on Pio Pico. They also have a film more popular with kids.
We were given permission to pick an orange from one of the trees as long as we didn't break the branch.
Although small this is a great little stop, very historical and relatively unheard of by most Angelinos.
For more info go to www.piopico.org/