Petersen Automotive Museum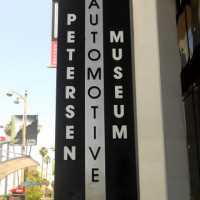 If you drive along Fairfax near Wilshire Blvd., it is hard to miss the car hanging off the side of the building that is the Petersen Automotive Museum.
Recently Rose was off gallivanting around Disneyland so Mrs. Everett took the boy and I over to the Petersen Automobile Museum and we had a blast.
This was the first museums we wanted to cover but they told us the Petersen Museum had no free days.
However, we recently learned the museum is actually free every day it is open.
The hitch is the museum is only free for the last hour from 5-6pm which is plenty of time to stroll through their amazing collection of cars, trucks and automobile memorabilia.
They have really do have something for everyone. Even Mrs. Everett got excited when she saw their recent scooter exhibit with all the rare and fancy Vespas she always dreamed of having.
Strolling among the old fashioned glass gas pumps take you back in time. They even recreated a car dealership from the early 20th century.
The museum is truly amazing and so is their collection.
Since we don't live too far away you can bet we will be back many times to check out new additions, rolling exhibits and their classic favorites.
Hot Tip: The Petersen Automobile Museum is part of museum row and is perfect for capping off a trip to the other museums on their free days because they are so close.
Don't forget to stroll their parking lot. Sometimes they hold auctions and many people park really cool cars in preparation. Plus the lot has a really cool old motor home and jet car which broke the land speed record five time.