Peace Awareness Labyrinth & Gardens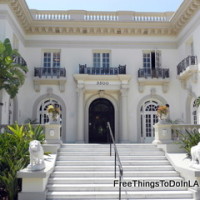 Nestled in the heart of mid-city along Adams Blvd. sits the Peace Awareness Labyrinth and Gardens.
Here is another one of those free things to do in LA very few people know about.
While not something to plan an entire afternoon around, this is a tranquil spot to escape the hustle and bustle just outside the gates.
Anyway, for your first visit, they offer a docent led tour of the historic building and grounds before leaving you to enjoy the peace and tranquility of the carefully manicured meditation garden.
The house itself is a turn of the century Italian Renaissance finished in 1913 Secundo Guasti owner of the world's largest vineyard.
Inside the house, pay close attention to all the small details because most of the ornate fixtures and much of the hardware including the phone box pictured, are all original.
Outside, is the labyrinth, an ancient or archetypal design which has been around for thousands of years all over the world.
This particular labyrinth is modeled after the one at Charles Cathedral in France circa 1220.
The hand carved stone pathway is designed to help you achieve an inner peace and relaxation. The idea is to start at the beginning and meander the path to the center before turning around and going back the way you came.
There are infinite ways to use the labyrinth for focus, meditation or just to relax. I suggest you pick up this handout as you first enter the villa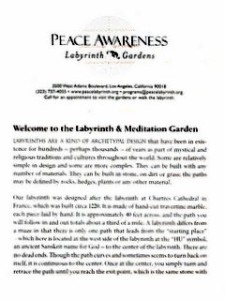 Just past the labrynth you begin to hear the sound of cascading water from Japanese fountains nestled among patched of bamboo.
The gardens belong to The Movement of Spiritual Inner Awareness which made me nervous at first. I hate being preached to but other than offering us some literature about programs, the organization was hardly mentioned. In other words, don't worry about attempts to indoctrinate you.
They really are just sharing the gardens with Angelinos looking for a respite from the rush of life.
NOTE: Since it didn't take long to experience the labyrinth and gardens we stopped at the house where they shot the HBO show series "Six Feet Under" I marked it for you on the map.
Also, rumor has it they offer an all you can eat organic buffet for $6 and a an all you can eat dinner buffet for $9.
There is plenty of parking n the street but you might as well park inside. It's free and you have to be buzzed in anyway.
The address is 3500 Adams and they are open for visits from 1AM-3PM Tuesday – Friday.
For more info visit :http://www.peacelabyrinth.org/