Paley Media Center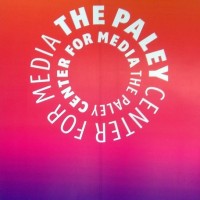 First, to be clear this used to be called the Museum of Television but it is now the Paley Media Center.
Located in the heart of Beverly Hills, the Paley Media Center is a hidden gem among the free things to do in Los Angeles.
Here you can view and listen to over 150,000 TV and radio shows or get a free ticket to enter the screening room to view some selected content on the big screen.
The building was designed by Richard Meier who was the architect who designed the Getty Center as well.
You can really see the similarities in the austere white walls.
There is an art gallery on the first floor but the screening room and viewing booths are upstairs.
Like any library, you first start by browsing their database of TV and radio shows and select something cool like the moon landings or in my case the old Dick Tracy radio shows. WARNING; Listening to old Dick Tracy radio shows can cause severe cravings for Ovaltine.
Once you make your selections, the title codes will print out at the librarian's desk.
The librarian will hand you the printout, which you take to an empty viewing station and punch in your selection.
Each station has four sets of headphones so feel free to bring a few friends.
The center is of course free but they do take donations.
They even have free 2 hour parking.
For more info: http://www.paleycenter.org/