Outdoor Movies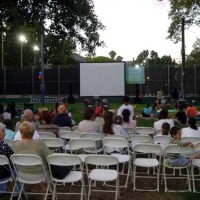 There are a few "outdoor movies in the park" events, and during the Summer they seem to be all over the city.
After starting this website, I discovered too many to keep up with them all. There so many, next Summer they will have their own section.
My favorite place for movies in the park is West Hollywood Park because they play movies while the kids swim in the pool.
Last Summer Rose watched little mermaid while swimming in the pool with her friends. How cool is that?
But I wanted to cover one before West Hollywood Park has their last few so tonight we saw "Beverly Hills Chihuahua" which was playing at Plummer Park.
If you want to hang out and talk, keep to the back of the crowd and if you really want to enjoy the movie more, head toward the front.
Blankets and flashlights are handy. Chairs are sometimes set up but not always so a folding chair is a good idea too. As always I suggest tagging your kids with a glow sticks so you can track them.
The movies are mostly kid friendly. However, some venues like Hollywood Forever which charges for their outdoor movies, allow people to bring beer and wine etc. and the Angel City Drive-In has a reputation for a sweet pungent odor reminiscent of Woodstock.
The parks department does sometimes give out glow sticks to the kids but they are all the same color. Great for entertaining the kids but not so good for tracking them.
As you can see, my boy scored a free whistle to go with his glow stick.
Here in LA you can catch outdoor movies in parks, shopping malls, downtown parking structures and even Hollywood Forever Cemetery. And, most are free.
A bunch of the free outdoor movie events are listed in the "Free Events" section of this website if you are interested.