National Night Out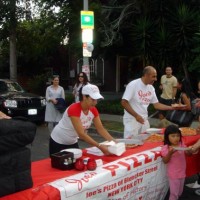 Every year Angelinos along with neighborhoods all over the country take part in local block parties, usually the first week of August… The event is called National Night Out.
Usually there is free food, live entertainment, free t-shirts and lots of prizes. Of course what food and the live entertainment depends on which gathering you attend but the t-shirts and prizes are usually the same.
Mrs. Everett chose The National Night Out on Vista Street in Hollywood. I'm sure the one in Santa Monica was much larger but we like smaller crowds and we both grew up in the area.
We showed up early on accident so we volunteered to help set up.
Our assignment was to tie balloons to everything and anything.
Once the time for fun came, we were treated to some live jazz ala the saxophone which gave us a very peaceful ambiance to match the mild weather.
It was perfect.
A local pizzeria Joe's donated lots of pizza as did Dominos. While the line for pizza was stretched to the limit, I eyed a new vendor setting up.
Yours truly was treated to an entire free dinner from Pomodoro Cucina Italiana. It was delicioso. So good in fact I am going there for dinner soon and giving them this free plug. Here is a link to their website. http://www.pastapomodoro.com/
We met a lot of very friendly people whom we did not know and Rose ran into several schoolmates.
Last time I exposed Mrs. Everett's love of the sweet brown stuff. This week I am exposing her love of all SWAG. For those not in the know SWAG is free stuff. It stands for Stuff We All Get. This made T-shirts high on her list.
She has them from several years. They serve as Rose's sleep shirts.
She was outdone by my mother-in-law who won a sweatshirt but last year my sweetie won a whole emergency preparedness backpack filled with all we need to survive. We keep it in the back of the family minivan.
This was my first year at the event but I'm glad I went and I will be back. For more information visit: Tuesday August 4, 2015 – National Night Out Block Parties All Over The USA nationalnightout.org