Memorial Day at the Los Angeles National Cemetery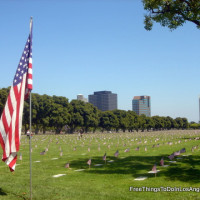 Memorial Day At
Los Angeles National Cemetery
Like any red blooded American, I owe a debt of gratitude for those who have gave everything for my freedom and last year I took my daughter to the Los Angeles National Cemetery for their annual Memorial Day Program to help her understand what the holiday is really about.
There are memorial celebrations all around Southern California but this is my favorite.
The program usually includes reading of dispatches from war correspondents by readers such as Jon Voight who is a regular.
Highlights include a flyover by the Condor Squadron, a performance by the U.S. Air Force Band, rifle salutes by the California Historical Group and a cannon salute by the folks from the Ft. Tejon Washington Artillery.
The ceremony, starts at 10:30 AM