Marina Del Rey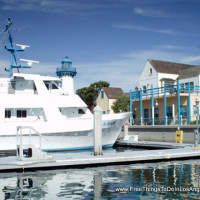 Marina Del Rey is…
The Largest Man Made Marina In The World
And, ithas been for decades.
We may soon lose the title to a marina being built in Dubai, but for now our Marina Del Rey is still king.
If you like boats this is a great place to visit. The marina has all the prerequisite dive companies, fishing boats and rental outfits you would expect in any large marina.
In Marina Del Rey you can get a free boat ride. Okay not totally free, you will have to pull a line or two. By the way a line is a rope that has been attached to a boat.
During their race season, members from all the yacht clubs come out for a sunset race on Wednesday evenings. The start line is just outside the breakwater and the racers go about a mile or two upwind, turn around and race back to the finish line deep inside the marina. It is really cool to see all the colorful sails gliding down the main channel.
The free part comes because people who buy boats always need crew. They can't race by themselves and their friends who are really into boats have their own so they are always looking for crew.
To learn more about how you can participate check out our post ion sailing here:Free Sailing
Another great thing to do in Marina Del Rey is take in a concert. The marina hosts concerts in Chase Burton Park and Fisherman's Wharf.
Chase Burton Park sits on the end of a peninsula which offers a great view of the marina's main channel and a fantastic place to have a picnic. There are many cool events held here, most are  free too.
This is the park where folks bring out blankets and drink wine while listening to classical and jazz concerts.
The other venue for live music is Fisherman's Wharf. This of course is the touristy area of the marina complete with little shops, restaurants, boat rentals and everything you would expect in a marina catering to visitors.
This is also where the boats selling marina tours embark from which is a very relaxing way to spend some time. For a poor man's version I like to take the waterbus because it is super cheap and I can get on or off at will.
I like to walk past the wharf to the repair yards just to gander at the huge boats the marina calls home.
There are several miles of bike path meandering the maze that is Marina Del Rey so a bike is a great way to get around the harbor.
If you follow the bike path across the street from the wharf you will see there is a section just for pedestrians. Follow this path to walk out on the jetty where all the boats enter and exit the marina. Being so large, there is always a boat coming or going.
Along the jetty are wooden docks set up for fisherman which is another free thing to do in Los Angeles we covered in a post here: Free Fishing
If you continue on the path and not the jetty, it takes you right over to the beach. I sometimes park here and walk to the marina.
The marina also has a popular beach and volleyball courts at Mother's Beach which I wouldn't swim in if you paid me. This however is a good place to rent or launch your own kayak.