Lummis House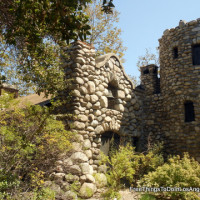 The architecture available to see in LA never ceases to amaze me.
People view Los Angeles as a very young city with little in the way of architecture and they couldn't be more wrong.
Our city was founded waaaay back in 1781 so we have architectural styles which range from adobe homes to the highest modern skyscrapers you might want to put in an earthquake zone.
For this outing we chose two visit one of LA's oldest homes… the Lummis House.
I was turned on to the house and a few other spots by a fan of the website and I'm amazed I didn't hear about or visit this place before.
I must have passed the sign on the 110 of this historical monument many many times.
Anyway, Charles Lummis walked to California from Ohio and was the first editor of the little newspaper we all know as The Los Angeles Times.
He also was an author, anthropologist, photographer, and he founded the Southwest Museum (temporarily closed).
He built the house out of stones from the nearby creek known as the Arroyo Secco and cement.
The grounds have a nice little garden walk and the inside of the house is as impressive as the outside.
Lummis used plate glass pictures for small windows and everything inside is custom built including a protruding rock at the back door which was Chuck's favorite sitting spot.
You can help but feel an overwhelming sense of charm and coziness.
Once again, I'll leave the photos to tell the tale but make sure you check out the pictures and guest book to get a sense of this charming house's history.
Everything from the locks to the window frames has little touches to make them special.
You can also see how Mr. Lummis' skills improved over time by comparing ceilings in older parts of the house to ones crafted added later.
The Lummis house is at 200 E. Avenue 43 Los Angeles, CA 90031 and is open Friday-Sunday from Noon to 4PM and their number is (323) 222‑0546
Heritage square a collection of grand old homes is just down the street but  we opted to drive a little further into Pasadena to see The Old Mill which you can check out here The Old Mill.