Hotel Figueroa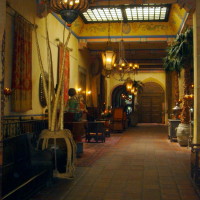 I just discovered the Figueroa Hotel myself. It was shown to me by my good friend Rorito Del Angel. Yes, all my friends have nicknames.
Deciding how to categorize the Figueroa Hotel is no easy task. It has food, drinks and great atmosphere at night but it is also has a great open and relaxed atmosphere which makes it a great stop anytime of day or night just to see the building.
We put in our architecture section because you don't have to get a drink to stop by and appreciate this great old Hotel which has been…
Operating As A Hotel Since 1925!
Their website claims it is where Casablanca meets Ancient Arabia and that seems like a perfect description.
The Hotel Figueroa is of course located on Figuroa in downtown so consider stopping by when planning any tour in that area of town. The Hotel is very close to Staples Center and has seen lots of celebrities in its day yet the hotel manages to keep its quaint charm.
I have not been inside any of the rooms but the lobby, bar and pool area all make one feel like they are stepping back in time.
The front desk even has the old time message slots for each room.
The area has lots of nightlife these days and The Hotel Figueroa is a great place to take a break and sit by the coffin shaped pool sipping a Mojito.
During the day you can make it a great stop on a walking tour of downtown.