Hot Rods at Bob's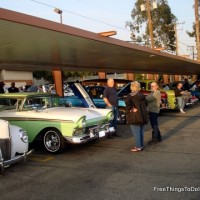 LA is a serious car town. We may not make them but we sure love an use them. Our weather is so good for keeping up older cars, classic car sellers actually love when they can say a vehicle is an "Original California Car."
The Santa Monica Pier is the end of Route 66. We have drive-ins, drive ups, drive thrus and drive bys. But the biggest reason we are such a car town is we…
Angelinos Spend  Lots of Time In Cars.
To see some of LA's best auto treasures for free, Bob's Big Boy Drive thru in Burbank is hard to beat.
Original drive ups and car hops like this are few and far between these days and Bob's in Burbank is a real treasure.
I headed out around 5 figuring I'd find easy parking and see the cars roll in but to my surprise the parking lot was already loaded with classic cars and some hot new ones.
Parking on the street for us with plain ole A to B cars can be hard to find as it gets later but I have never had to park more than a block and a half away.
The inside of the restaurant itself takes you back to the early days of hot rods. Juke box, red vinyl booths, malts and the…
Whole Scene is Right Out of American Graffiti!
But the real show is on Friday nights and it is outside where the scene matches the inside.
Most weeks you will find regulars like the Plymouth Fury police car complete with donuts. It plays music from famous crime related shows on outdoor speakers.
The guys with the hoods up and with car info in their windows are pretty friendly and enjoy showing you their cars.
One fellow introduced his guard puppy, Sugar to the kids. It was a sweet treat for them, obvious bad pun intended.
When I was a teenager, we used to kill some time here before heading over to Kevin's Burgers in Van Nuys. There we would see more modern street racers and follow one to watch the street races.
It's been so long, I don't even know if Kevin's is still around but it is always good to know Bob's is still there.