Free Yoga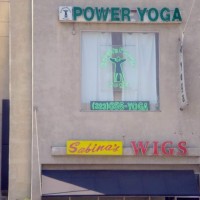 First let me say there are a lot of places to learn Yoga in Los Angeles. They range from free all the time in the park to paying a lot of money for a personal yoga instructors who cater to celebrities and give a lot of one on one workouts.
For your first work out you want to go to a professional yoga studio because you get more personal attention.
Also the climate control is better which can make a huge difference.
I chose to go to Earth Power Yoga Studio on Fairfaix and no they are not normally free but I have managed to score myself a free yoga class. More importantly I managed to score…
A Free Yoga Class For Everyone
Who Joins Our Email List!
One of the owners of Earth Power Yoga Studio is a fan of the website. I asked him if I could give out coupons for a free yoga class to everyone who signs up and he agreed.
Unlike other studios they will not try to up sell you on a membership, ask for donations or take your time trying to get you to sign up for anything.
As I said, Steven helped me learn a little about building websites and we became friends. He is doing this more as a favor to me and because he wants to see www.FreeThingsToDoInLosAngeles.com become very popular.
Today was my first yoga class and it was…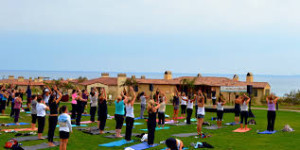 Not What I Expected!
When someone mentions yoga the image that pops into the brains of us regular Joes is of a lot of girls stretching slowly which makes me wonder why more men don't get excited about it for that reason alone.
Anyway, you might ask yourself what is such a manly man like Everett doing taking a yoga class?
The answer is, turning in my man card or handing it over to my yoga instructor until I am tough enough to do what she can.
Chris, the only other student in the class got his man card back a few sessions ago and was quite helpful.
When the class started I was feeling the built up stress of life in the big city. I was also feeling a little anxious until we started.
The pace and energy you put into it is your own but you will sweat. The studio is kept very balmy and that extra moisture really helps heat penetrate to your joints and muscles and also help sweat out toxins.
Unlike working out with a personal trainer the yoga instructor was encouraging but not pushy. If a personal trainer shows up at your door and you are happy about it, they just aren't doing their job.
Yoga instructors give off a more mellow and peaceful vibe.
Steve didn't teach the class I took. As I said I was out manned by a girl named Jessica who breezed through the moves like she was dancing.
The first time is awkward but by the end of just the first class, you should get into a grove of learning which is less jerky.
This reminds me.
Bring Four Towels!
Bring two regular sized towels and two smaller dish rag size towels.
You will be so sweaty the first towel will be for wiping sweat from your eyes. The two smaller towels will be helpful for keeping your hands from slipping because they are sweaty.
The last towel is of course for the final dry off before heading home.
If you are new, mats are available but if you get into yoga I am sure you will want to spring for your own.
Flip-flops are helpful.
Yoga is a barefoot activity and it is easier to slip on and off flip-flops.
Lastly, bring another shirt. My shirt was soaked with sweat all the way home and I really wish I had prepared for it.
All in all, I have to say…
The Experience Was Great!
Afterward I felt balanced, centered and grounded. If that sounds too new age and like hippy talk now you will understand after just one class.
They have free yoga in the park at the base of Runyun Canyon Park but I really suggest you take a class at Earth Power Yoga first. There are no distractions. The personal attention is better and really needed for newbies like me.
The free coupon is attached to the first email we send everyone who signs up from now on.
Earth's Power Yoga is on the corner of Melrose and Fairfax.
Only one coupon per person but feel free to tell your friends so they can sign up for the email list, get coupons and go with you if you want.
I never give out email addresses and they can always unsubscribe with no hard feelings.
To get a taste of what Yoga is like Steve let me post some of this videos here.