Free Retail Events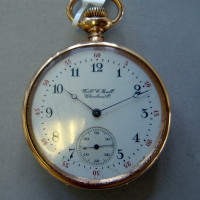 Everett and Paul's Not So Big Adventure
This page will help me kill two birds with one stone. (no offense to ornithologists)
Because LA is the second biggest city in the United States, it is on the must-stop list of anyone or anything doing a tour of the US. If the treasures of King Tut go on tour, they will stop here. If any major band plans a US tour, they will undoubtedly stop in LA.
This is also true for companies doing promotional tours.
Everyone has their hobbies, including me. I am a fan of the moribund personal accoutrement of yore, called the wristwatch. By the way, Los Angeles is not a good place to live if you are looking to take a course in watchmaking. However, LA is fantastic place to view new watches of all description.
Anyway, as it happens, watch companies take a lot of pride in their history. They buy up famous and vintage pieces for the company collection which often goes on display and sometimes parts of their collections go on tour as was the case today.
My fellow watch aficionado and all around great guy, Paul, got word the Ball watch company which has a rich American history, was going to display some of their historical collection at a local authorized dealer in Glendale.
Being the swell dude that he is, Paul invited me to lunch and to check out the watches.
The store we visited is so new, they are just putting the display cases together and they haven't and their official grand opening is a few weeks away. Yet, we got the royal treatment. The owner and staff were extremely friendly and accommodating. They had sandwiches, snacks and drinks laid out and what blew us away, is how readily we got to handle and touch timepieces from the 18th century.
Paul had forgotten his camera so I promised to send him copies of my poorly framed photos. Since it is easier for me to post them on this website and these free retail events happen all the time, I decided to kill the proverbial bird with one stone and make this a post.
This way he can download the shots he likes and post them on our favorite watch forum www.pmwf.com (Poor Mans Watch Forum)
Last year Paul and I visited a very famous watch we had read a lot about before it made its way to the Breguet Boutique in Beverly Hills. I love browsing the watch shops in Beverly Hills because the free catalogues they hand out are not just great reading, but they are so nice, they make great coffee table books.
My daughter and I picked up some awesome hardcover catalougues from Butterfield & Butterfield I have seen parties offering the public free booze, food etc. All were free retail events.
The Ball Wathces display was just for this afternoon, but whatever you are into, I am sure there are roving promotional displays and opportunities for SWAG (Stuff We All Get) here in Los Angeles.