Franklin Caynon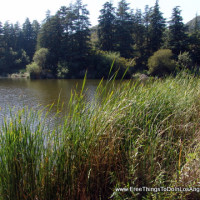 A backdrop for many movies and TV shows such as The Andy Griffith Show and Planet of The Apes, this park is a surprising respite from the hustle and bustle only a short distance away down the hill.
Some of their evening programs leave you in the park after dark which is awesome, especially on nights with a full moon.
 If you visit and really love the park there is a lady who helps makes visits even more awesome. Her name is Robin and she volunteers to lead tours and programs in the park which range from moonlit evening hikes to classes on using compasses.
This place is great for:

Picnics
Hikes
Free Kids Programs
Free Nature Programs
Her programs are listed here and if you get on her mailing list she will send you notices of all her events.
When I met her and her husband, they brought me to a cool little spot I would have never found without them. As it turns out, some people claim that inside the park is the Point on Balance of the plane of the city of Los Angeles.
This is what the homemade plaque placed back in 1990 claims.
If this is true or not this is also someone's big chance to remark it. See in 1990 the GPS signals were selective and only military GPS signals were accurate to within a couple feet. They removed this function in 2000 giving everyone the more accurate location so there is a good chance this guy is off by up to 60 ft.
The park is also nice for very young kids. Besides two main reservoirs there is a small pond with turtles and fish right off the road.
They have a nature center with some interesting interactive exhibits and this is the place where in Summer kids can come roast marshmallows with the rangers.
If you are trying to get to the nature center, the north entrance is always the best route except unless you are in rush hour traffic.
But if you want a nicer more scenic drive, take the south entrance and if you are there after sunset you should know the gate at the bottom always opens automatically for cars leaving the park so don't worrry about getting locked in.
Well that is my report and I'm sticking to it.