Fourth of July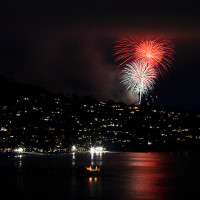 You can tell the border crossing at Tijuana has tightened security when you don't hear a lot of M80s and other assorted fireworks going off the week before 4th of July.
But, while illegal fireworks are in (somewhat) short supply, Los Angeles has lots and lots of great firework shows and I am going to tell you…
How To See Almost All Of Them
AT The SAME TIME!
It is very hard to say what the best firework show in Los Angeles is, especially when there are so many fantastic displays.
You never have to go far. In fact anyone can see great fireworks shows from the top floor of most parking structures like the one at The Grove.
Growing up, my family traditionally watched all the shows at the beach. Usually, the firework displays from The Santa Monica Pier, The Johnathan Club and The Malibu Beach Club can all be seen from Santa Monica Beach.
Later in life, my wife and I started going the top of Runyun Canyon where you could see about a dozen shows in the distance all at the same time.
However, a few years ago I discovered my personal favorite place to watch fireworks and from there you can…

See Too Many Firework Shows To Count!
Some are very close and others are far off and it looks like the whole city of LA is at war.
My special spot is what is now called The Baldwin Hills Overlook.
With an almost 360 degree view of LA and high enough to see over the structures but low enough to not be in the marine layer, it is almost always the best spot to see tons and tons of fireworks.
After seeing the shows go on for over an hour you really get your fill before they are done.
Beware! They now charge for parking and my guess is this year the spots will be taken up fast so if you don't show up early, be prepared to take a VERY STRENUOUS walk, stair climb or hike to the top. To learn more about The Baldwin Hills Overlook click here: http://freethingstodoinlosangeles.com/best-view-in-los-angeles.html
Of course we have a lot of shows you can get closer to and fireworks alone do not make a great 4th of July celebration.
There are festivals, concerts, shows and all sorts of activities to choose from in our calendar of free events here