Fossil Hunting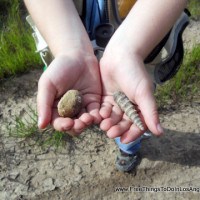 This was new to me. My son is Dinosaur crazy and loves anything to do with fossils and paleontology .
I searched the internet for a place to hunt fossils in Los Angeles and found several places a short drive away.
Since my boy gets out early on Tuesday, I picked him up and we went to the top of the Santa Monica Mountains where we found these fossilized shells near the very top.
Some websites shows the place near where we parked as now off limits there was no parking signs of any kind where we found ours.
Below is a map to where we found ours and a link which tells of many places in southern California to hunt for fossils.
NOTE: If you take small kids be aware this is the side of a road so keep a very close eye on them.
For more places click here: http://members.fortunecity.com/