Firehouse No.1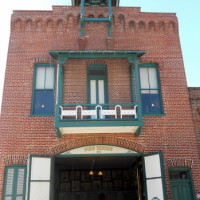 That's right, this is the very first fire station in Los Angeles. Not to be confused with the LAFD Museum in Hollywood but this two story firehouse is…
The Very First Firehouse in Los Angeles!
The museum offers a great look into LA's past between the first Pobladores (LA's first residents) and the modern metropolis.
The fire station is well preserved and offers a fantastic glimpse of the routine, equipment and life of a firefighter from 1871.
The bottom is dedicated to the heavy gear and firefighting tools. My favorite displays are of the communication equipment..
The top floor displays the living arrangements in LA's first firehouse and memorials to the brave men who performed this vital late 19th century public service.
Since the Chinese American Museum is just around the corner and their operating hours are the same, it is a good idea to visit both.
For more information on LA's First Firehouse visit http://www.ci.la.ca.us/elp/elppfh1.htm