Email Santa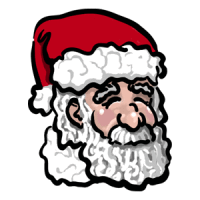 For many years, millions of little boys and girls have written to Santa hoping every year he read their letters and very few got any response. However, ever since he went online, Santa has been able to return emails.
Iin my email, I asked for a ton of facebook friends and a camera. No word on the facebook friends but he did say the elves make great cameras.
To send your own email to Santa just click on the link below.
Ån
email
to• Santa
Claus? • Yes,
kids • its true!
Jolly St. Nicholas
wants to • hear about
• You!! From the North •
• Pole, • Santa • will • write
your • reply, faster than red
nose • reindeer • Rudolph • can
fly!!
MERRY CHRISTMAS