Critical Mass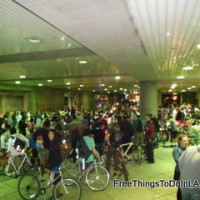 Los Angeles basically invented car culture, but LA is a also a great town for bicycling.
In the past few years, LA has created many miles of bike paths with more being added every year. Plus, we now host some awesome bicycle related events like CicLAvia, bike week and community rides like Critical Mass which is…
The Largest Community Bicycle Ride
In The Whole Country
With Over 3000 Riders!
I really love what Critical Mass has evolved into here in Los Angeles.
On the last Friday of every month, thousands of bicyclists assemble at Western and Wilshire for a free ride which starts promptly at 7:29 PM.
The routes vary from 15-30 miles and include 2-3 stops.
The fun part is few people know exactly where the ride is going to take us, but that is only because they prefer to just show up and ride.
Even one of the police officers told me he doesn't know where we are headed, until they broadcast it on the radio.
The riders are a very eclectic group of people, riding all kinds of bikes and although I wouldn't recommend bringing very small kids, the goal is NOT to go super fast.
The goal is to be a part of a rolling bicycle community.
You really do get a chance meet and chat with fellow riders and feel an awesome sense of being a part of something much bigger.
Best of all, the police keep cars away from the bicyclists making the ride very safe.
This ride was so much fun, it inspired me to check out a few more social rides like Critical Mass and I'm pleasantly surprised at all the options available in LA.
I'll of course report all my findings as I go.
Critical Mass has no official leaders but you can usually get some good info on upcoming rides here:
There is also a facebook group dedicated to Critical Mass in LA which you can join here:
https://www.facebook.com/groups/losangelescriticalmass/