CicLAvia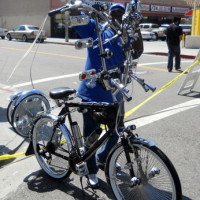 Los Angeles is known as a car town so most don't think about all the bicycling opportunities this city offers.
Besided the bike path at the beach everyone knows about, LA has many miles of bicycle lanes and lots of bicycling related social events.
Critical Mass is a group of riders that gets together on the last Friday of the month to ride the streets of LA in one massive group so large, they get police escorts and have support vehicles for bike repairs.
LA is also home to many smaller bicycling groups that do everything from long training rides to cruising the boardwalk and taking in a movie.
A little time on meetup.com or google and you will find plenty of bike action you can join.
Out of all these possibilities, CicLAvia is my favorite.
Several times a year around 10 miles of roads are closed between Los Feliz and downtown are closed down so Angelinos from every age group can enjoy a safe car-free ride at any pace they choose.
Based on an idea first implemented in Bogota Columbia to get people out of their cars and in touch with the community.
CicLAvia is more than a simple bike ride. There are many activities like adult dodge ball, dance troupes, and lots of booths for food, music etc.
This really is yet another of the many great free things to do in LA.
The map grows with each event so the map below is also a link which will take you to the official website.