Chinatown Summer Nights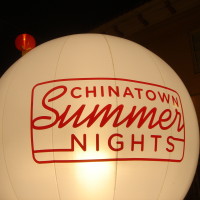 Chinatown hosts a great party on Saturday nights during the month of August called Chinatown Summer Nights.
While very family friendly this is a great event for dates too.
The Chinese architecture, lighting and interactive displays make the whole scene visually exciting.
We arrived a bit late for the Chinese lantern making workshop but managed to spot a few happy kids proudly toting their new creations.
The first stop for us was the line of fusion gourmet food trucks serving slushies, Brazilian burritos, surfer tacos, grilled cheese sandwiches and all manner of cuisine.
There are plenty of spots to cop a squat and munch while listening to tunes pumped out by one of three DJs.
Next, we caught a martial arts demonstration put on by some very skilled kids and then they brought out the big drums and Chinese dragon costumes.
We passed on free ping pong because we were too full.
Later we caught a cooking demonstration where they explained the best way to cook up jellyfish and a famous dish known as the 1000 year old egg which they gave to the crowd.
While not an adventurous eater I did sample both.
The reward for my culinary bravery was a picture of Miss Chinatown.
We happened to come on the night they were celebrating the birthday for the man who put the whole event together so we were also treated to birthday cake.
After all that food it was time to burn off a few calories on the dance floor where DJ Jeremy Sole spun some truly great sounds. He mixes a fusion of music from all over the world and does it so well he got this old man grooving to the music.
There were cameras set up to capture the scene and project the images onto the walls of buildings all over the festival.
This really is one well put together and fun event.
The party starts at 5pm and runs to midnight.
For more information visit www.chinatownsummernights.com