Central Library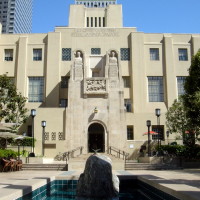 LA Central Library
The Central Library in downtown is something all Angelinos can be really proud of. It is not just a really cool old building. Between the stuff you can do there on a daily basis and their program of events offers an almost endless amount of free fun.
As you can see from the photos the mixture of old and new architecture and the décor all celebrate what it means to be from California.
Iron palm tree sculptures and murals of old western scenes highlight the varied influences from our Mexican and Spanish have had on our city.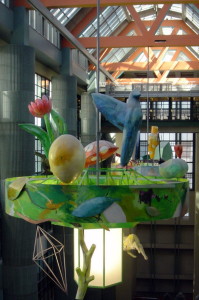 All of the décor reminds one of our old west history.
There are areas designed just for adults, kids and teens. There are multiple computer stations throughout the building and lots of media sections. They even have…
Mini Art Galleries!
As a library, it of course has lots and lots of books. Each of the major categories such as children's books, fiction, reference etc all have not only their own section but their own rooms which are the size of my entire local library browsing section.
In a city of over eight million people you know there are books donated on almost every subject and their collection is not limited to just books.
The whole library system is well known for its wonderful special programs for visitors of all ages. They have everything from lectures on graphic novels to puppet shows.
We will continue to cover more libraries but there is no doubt in my mind this is the greatest library in California.
We post many of their programs in our calendars but not every single program so here is their website which itself is a great resource: http://www.lapl.org/
Parking is not easy anywhere in downtown but the rates for parking at the library are better than most. Sundays offer some free parking and the metro station is within a few blocks.