California Science Center/Rose Garden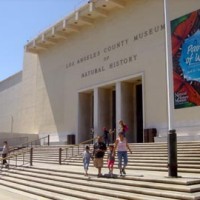 Today's free activity report is a two-fer. We did two separate activities and they both filled all the requirements for the challenge but since they are so close (30ft from each other) I'll report them as one and this way I have room for one error in the challenge.
My daughter has been begging me to take her back to the California Science Center and today she got her wish. Since it was her choice and such a great place for kids I'm letting Rose (my daughter) tell you about it. I'll fill in any pertinent details.
But, first I will tell you about the Rose Garden. It is a Rose Garden with a great variety of colored roses. Well that is about it.
Seriously though, there are some lovely (the place makes you want to use words like lovely) spots to sit or picnic. The grounds surrounding the Rose Garden, has many picnic tables and on the North side there is some shady picnic area.
There really just isn't that much to say about the place except the best time of year is spring but since this is Southern California it doesn't matter as much as other climates.
I'll let the pictures describe the place.
Parking in the area is very tight. There is some free parking available along the residential streets in the area. The problem is there are few residential streets. There were spots today, but I imagine on a busy weekend you will have to walk a bit further.
There is metered parking for about $1 an hour nearby with time limits of 30 minutes to 4 hours.
Parking at the museum lot will cost you $8. If I hadn't found parking, I was going to move this to the almost free section I am starting.
The kids love the decorated globes in the garden.
The Museum of Natural History is also on the same grounds but is only free on the second Tuesday of the month while the California Science Center and Rose Garden are free all the time and absolutely great for entertaining the kids.
Imax and the Aerospace Museum are also on the grounds. It would be difficult to see it all in one day.
The Los Angeles Coliseum is there too. It is all part of what they call Exposition Park.
You can find all of them using Google maps but freeway signs point the way too. Take the 110 to Martin Luther King Jr. Boulevard headed west. Turn right and you will see where to turn left to enter the parking lot but if you take a right instead and then an immediate left on the next block there is some residential parking.
I am now going to let my daughter Emma Rose tell you about the California Science Center.
California Science Center
Hello, my name is Rose. I am Everett's daughter. I am going to talk about the fun Science Center and the beautiful Rose Garden. The funny thing is that it is the "Rose" Garden so I feel like it was named after me. My Dad let me write this because it was my idea to go there.
The Science Center is agreat place for kids to learn and to have fun. The beautiful Rose Garden is right across the street. The building is red with designs on it. I went with my Dad, my little brother, my friend Sana, and my Dad's friend.
Sana speaks 3 different languages.( English, Italian, and Russian. ) She is a good student and was born in New York and lives in Rome.
They have different sections. There are some sections for little kids.
We got to learn some of the experiments that smart scientists did. There is this section where they change different activities.
One time they had C.S.I. They have this section called Body Works which is a body parts section where you learn about the body. Also they have a huge robot to teach you about your body. I would say my favorite part of the Science Center is the section with the different activities.
Before I left I asked Sana if she liked it because it was her first time. This is her answer, "I love science now. I even love this place."
The beautiful Rose Garden is place to relax in peace.