Build A Fire On The Beach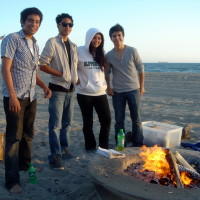 Fire Pits At Dockweiler Beach
Dockweiler is not even close to our most peaceful or beautiful beaches we have in Los Angeles. Situated at the end of the runways from LAX you can see planes taking off overhead at a rate of one a minute, which is great for plane lovers like my six year old son but not great if you are looking for a quiet place to listen to the surf.
But, Dockweiler Beach has one thing the other beaches don't.
It Has Free Fire Pits!
I can't even think of another beach in LA County that even lets you build a fire.
The crowd is often very friendly and on a recent outing my family and I were invited to sit a spell.
This is a great way to unwind, relax and enjoy the twilight hours of the day.
There is free parking along the road until 10PM which is fine because there is plenty of parking and even if you pay to park in the lot closer to the pits, everyone must leave by ten anyway.
Folding chairs, windbreakers and drinks make this activity a whole lot more comfortable.
If you are cruising solo try looking for a party there on www.meetup.com where an offering of a piece of wood is often the price to join in the fun.