Beverly Hills Library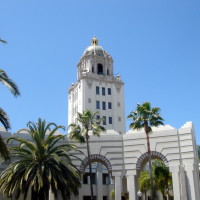 Beverly Hills Library
They have nice big tables and all the doodads other libraries offer but The Beverly Hills Library makes it…
Super Easy To Get In And Out
Also,…
They Provide Two Hours Free Parking!
In fact, I find it strange that the most expensive area in Los Angeles offers free parking nearly everywhere without validation or anything.
The front of the library often has exhibits. The last time I visited they had a collection of…
Autographs From:
Abraham Lincoln
Theodore Roosevelt
Rutherford B. Hayes
Warren Harding
Frederick Douglas
Gerald Ford
Oliver Wendell Holmes Jr.
Benjamin Harrison
Ida Tarbell
Robert Todd Lincoln
Vachel Lindsay
I'm not sure if they are the only library with Lincoln's autograph but they are definitely…
The Only Library In The City With A Fudge Store!
The Beverly Hills Library also has one of the most well kept libraries in the city and it is very welcoming to all visitors.