Automobile Club of Southern California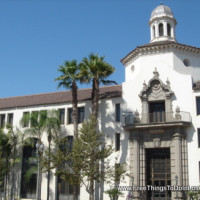 The AAA office on Figueroa and Adams is on our list of free things to do because of all the history which can be found on the property.
While it is still a working office, this particular branch of AAA is also the headquarters for The Automobile Club of Southern California which is one of the oldest auto clubs in the country dating back to 1900.
The club helped promote car culture in California by providing road signs up till the 1950s when the state started providing them.
The club also lobbied for the historic route ridge route connecting LA with Bakersfield which prevented California from being split into two states.
The building itself is very cool. It was erected in 1921 in the Spanish Revivalist style.
As you walk through the building you can see and learn about the club's history which is of course California's history as well.
HOT TIP: While a cool place to check out, the museum isn't a half day stop. But, the building is part of a walking tour and so are a few of the large craftsman style homes across the street on Adams. You can pick up the tour by following the signs posted outside.