AMPAS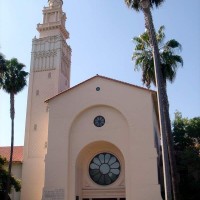 This is the last activity in my thirty week challenge and I learned a lot from this whole experience.
When I started this little challenge, I honestly didn't have 30 completely different activities in mind and I began to wonder if I was in over my head.
Soon we were ahead of the game and towards the end it became clear it would be hard to decide what to cut from the list of free things to do.
This last activity is one of the rewards of my adventure.
Research led me to visit the Academy of Arts Motion Picture and Sciences headquarters on Wilshire Blvd.
Since it was really a movie museum of sorts, it couldn't make the list for the challenge because we already covered a museum. However, while visiting, I asked what was in the building they had on La Cienega?
It turns out it is a library completely focused on films which is open to the public.
Due to LA's size, we have so many libraries you could keep yourself busy all month just visiting one a day.
The natural choice for most people is the Downtown Public Library which provides great services and is inside a terrific building.
To keep with my goal of showing everyone rarely noticed activities, the Library of The Academy of Motion Pictures Arts & Sciences looked perfect.
The Academy isn't on everyone's list already.
The building it is in and the park next door used to be a water treatment plant for the city of Beverly Hills.
As You can see, the building has massive doors!
Unfortunately, they do not allow photographs. In fact they…
Don't Allow Anything Other Than Paper, Computer & Pencil!
No cell phones, no purses…
Not Even Pens Are Allowed!
When you enter on your first visit, they ask for your ID. While they log you in, check out the…
Extra Large Movie Poster From King Kong
There are cool posters all over but I like these King Kong posters the best.
Once you sign in, they give you your new library card and a key to a free locker to place your stuff.
The library is on the second floor.
First, I took some time to peruse the decorations which included:
Letters Giving a Behind The Scenes Look At Early Hollywood
More Oversized Movie Posters
An Original Edison Kinetiscope
Old Scripts
Of course, like any library…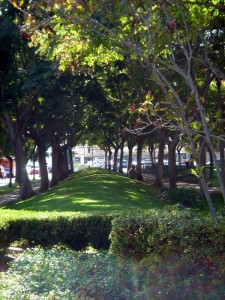 The More You Know What to Look For,
The More Fun You Will Have.
One of my favorite films is Dr. No so that made up the first request. But, just incase the film was too foreign to have much material, Death Race 2000 became the second choice.
Surprisingly Dr. No was considered to be a long term popular franchise as soon as it was finished being made.
At the reference desk I asked for the oldest issue of The Hollywood Reporter they had and for the one covering December 8, 1941.
The paper was very concerned that day with Greta Garbo's film "Two-Faced Woman" being censored by the National Legion of Decency.
Bishops were ordered to tell their priests to tell their parishioners not to see the movie because it represented sex not love.
Hmmm…..I'm sure that killed sales.
They did say box office sales were down 15-50% as people were staying tuned to their radios for reports on the current situation.
There was a story about how movie extras were the first economic victims of the war felt in Hollywood. It seems large groups of extras require Police presence and the officers were getting ready for war so the jobs which called for large numbers of extras were cancelled.
The book with this issue also had an issue with a rare double page, color ad for Dumbo.
I looked up a few more famous dates in history and browsed some old directories advertising comedians like Laurel and Hardy.
On the way out, I noticed some pictures of the building and adjacent park before it was converted from a water treatment plant.
There is free parking next door and everyone is very welcoming.